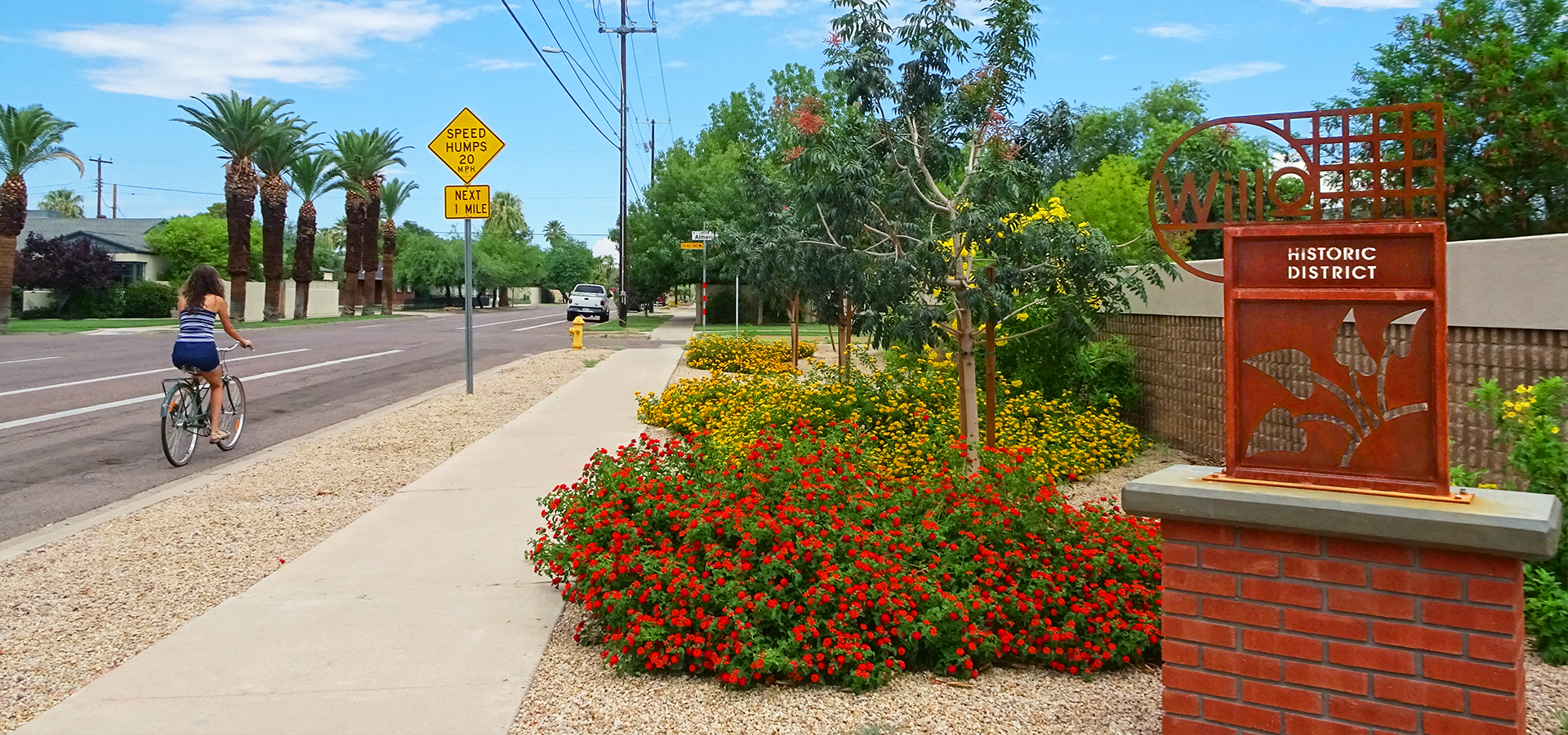 09 Feb

Public meeting: 3rd/5th Improvement Project

When:

January 20, 2022 @ 6:00 pm – 8:00 pm

2022-01-20T18:00:00-07:00

2022-01-20T20:00:00-07:00

Public Meeting Notice 

3rd and 5th Avenues Improvement Project 

(North of McDowell Road)

Location: Virtual (join by computer or phone)

Please join us for a virtual public meeting update on the design recommendations for the bicycle- and pedestrian-friendly improvements for 3rd and 5th avenues north of McDowell Road.

The boundaries for this project include 3rd Avenue between McDowell Road and Muhammad Ali Way, and 5th Avenue between McDowell and Thomas roads.

Members of the public are encouraged to attend and participate in the virtual meeting by the following three options:
Call-in to listen to the live meeting: Dial 602-666-0783, enter the meeting number: 2484 091 7633 then press #. Press # again if prompted for an attendee ID. This option allows participants to ONLY listen to the meeting.
View and listen ONLY to the live meeting using a web-enabled device with both video and audio. Go to phoenix.gov/streets/3rdand5thavenuesnorth to join the meeting. If you are asked for a password, type streets. To request to speak at the meeting, you must additionally follow the steps in Option 3 below.
Request to speak and/or submit a comment or ask a question during the live meeting:  Email us at 3rdAND5thAvenuesNorth@phoenix.gov with your first and last name, and we will email you the pre-registration instructions. Or, you can call the Project Hotline at 480-281-1506 to supply us with your name and email address. Please contact us by noon on Thursday, January 20 if you would like to ask questions or comment about the project during the live meeting. Requesting to speak in advance will allow us to better facilitate the virtual meeting.
For more information about the project, visit:
phoenix.gov/streets/3rdand5thavenuesnorth
To request a reasonable accommodation be made available at this meeting, please contact the Street Transportation Department at 602-262-6284 or 7-1-1 (TTY).
Aviso de Reunión Pública 
Proyecto de Mejora de las Ave 3 y 5 
(al norte de la McDowell Road)
Hora de Inicio: las 6:00 P.M.
Fecha: Jueves 20 de enero de 2022
 Ubicación: Virtual (únase por computadora o por teléfono)
Únase a nosotros para una reunión pública virtual sobre las recomendaciones de diseño para las mejoras para ciclistas y peatones en las avenidas 3 y 5 al norte de McDowell Road.
Los límites de este proyecto incluyen la Avenida 3 entre la McDowell Road y la Muhammad Ali Way y la Avenida 5 entre la McDowell Road y la Thomas Road.
Se les anima a los miembros del público a que asisten y participen en la reunión virtual por las siguientes tres opciones:
Para escuchar la reunión en español: Marque602-534-1000, luego el número de reunión,57271, y luego apriete el #. Esta opción SÓLO permite que los participantes escuchen la reunión.
Para ver y escuchar SOLAMENTE a la reunión en vivo por usar un dispositivo habilitado para la web con video y audio, vaya aphoenix.gov/streets/3rdand5thavenuesnorthy marque el número dela línea español, 602-534-1000, luego el número de reunión, 57271, y después apriete el #.
Si desea hablar o hacer una pregunta, notifique al interprete en el momento cuando pida preguntas durante la sesión de preguntas y respuestas.
Para información adicional sobre el proyecto, visite: phoenix.gov/streets/3rdand5thavenuesnorth 
Para solicitar que se haga disponible alguna acomodación durante esta reunión, favor de comunicarse con el Street Transportation Department al 602-262-6284 o 7-1-1 (TTY).