On January 23rd, the editors of The Willo Historic Neighborhood: Architecture & History held a launch party at the home of Diana Herman for those who had pre-purchased books and local dignitaries. Perhaps buoyed by cake and champagne, many additional copies were sold!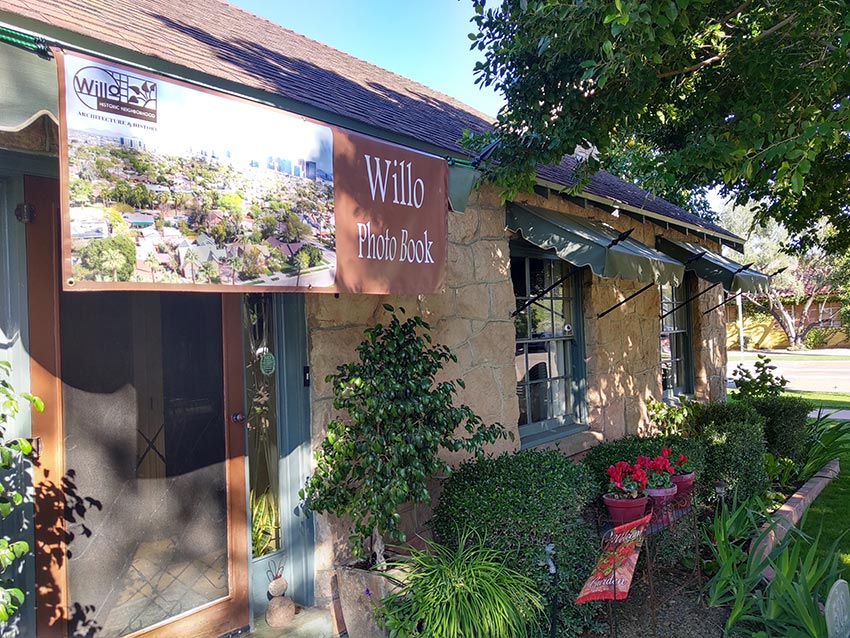 This 200-page hardcover book features full-color photos of Willo historic sites and over 400 Willo homes, plus information on each of the homes featured. The book represents four architectural eras spanning from 1910 to 2016, with the history of each era containing facts and details about Phoenix and our unique neighborhood.
Willo photographers, writers, researchers, and editors volunteered hundreds of hours to make this photo book a historical Willo treasure and reference guide. Fourteen of your Willo neighbors contributed their time and energy to produce this beautiful work of art.
Prominent contributors include Jon Talton (author and journalist), Daniel Koenig (professional film producer and aerial photographer), John Woodcock (professional photographer), John Brinkmann (editor of American Bungalow Magazine), Dr. James Burns (former Executive Director of the AZ Historical Society), Kathryn Leonard (AZ Preservation Officer), John Jacquemart (historian), and our own Dr. Robert Cannon (Willo Neighborhood Association President).
Willo Home Tour 2022
On February 22nd, hundreds of visitors visited the Willo Photo Book booth at the 2022 Willo Home Tour. Author Jon Talton joined us to sign books. We sold the last available copies of the book. We have now sold out of 300 copies!
The WNA Board of Directors and the editors of the Willo Photo Book would like to thank everyone involved with the Willo Photo Book. Without our contributors, this book would not have been possible!

Some of the accolades that we have received for the Book:
"Amazing photographs. People love the book. Everyone is raving about the book-so thankful for the amazing work." – Bob Cannon
"The editors did a tremendous job of condensing years of history in a factual and enjoyable manner.  I particularly enjoyed the nostalgic review by Jon Talton, the story of the Redewill House, and the article by Venancio Berrocoso on the New Deal Sidewalks.
The photo of the "Dial" Building on p. 157, was outstanding. A very noteworthy job by all involved. – GG George"
"OMG, Diana! You should be soooo proud of yourself and your team! This book is amazing. I am blown away by the quality and content and have already learned so much just from what I've read so far. Again, congrats on this amazing project – a labor of love for sure!" – Opal Wagner
"What a GREAT book.  A true work of love. Can't wait to walk through the neighborhood carrying this book as a reference." – Arlene
"Thank you! The layout is fantastic, professional, yet like coming home!" – Tim, Historic Fire Station 8
"Thank you for a great book" – John Jaquemart
"This book is absolutely incredible! The home photos and the history-amazing!! So enjoyed reading "My Three Lives in Willo" by Jon Talton." – Lindy Isacksen
"The book is great and we love it! Great job!" – Bobbi Ryals
"Just wanted to let you know how much I enjoyed the lovely book you put together.  Very fun, very informative and the photographs are beautiful.  Thank you so much for all the time and effort!" – Jacquie Kalinowski
"The book is lovely. Splendid job. I'll treasure it." – Linda Helser