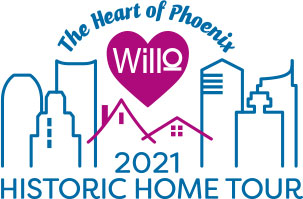 2021 Home Tour Date: February 14, 2021
Please mark your calendars for the 2021 Willo Home Tour – Sunday, February 14 (Valentine's Day)!
The Willo Neighborhood Association has a reputation of hosting one of the most successful and well-attended annual home tours and street fairs in Phoenix.  Planning for the 2021 tour is underway and facing some unique challenges.  The decision to continue to plan for the tour was not taken lightly.  We are working to be flexible and thoughtful in planning a home tour that will ensure we showcase Willo in a safe and positive manner.  Not knowing what the situation will be in February 2021 is weighing heavily on our minds and we will remain open to making changes to our plans as the status of the pandemic evolves.
We will be updating this site as soon as we have more details and will be including information on how to purchase tickets.
In the meantime, if you are a resident of Willo and want to get involved with this year's tour, either as a volunteer or are interested in putting your home on the tour, please reach out to us via the following email:  2021wht@gmail.com
Specifically, we are looking for homes that have a fabulous backyard, unique garden, residents that operate a studio from their home or any homes that have not been on the tour in the last 5 years.
Thank you for your support of this one-of-a-kind neighborhood.
2021 Willo Home Tour Co-Chairs
Brad Brauer and Teresa Fontana
2021wht@gmail.com