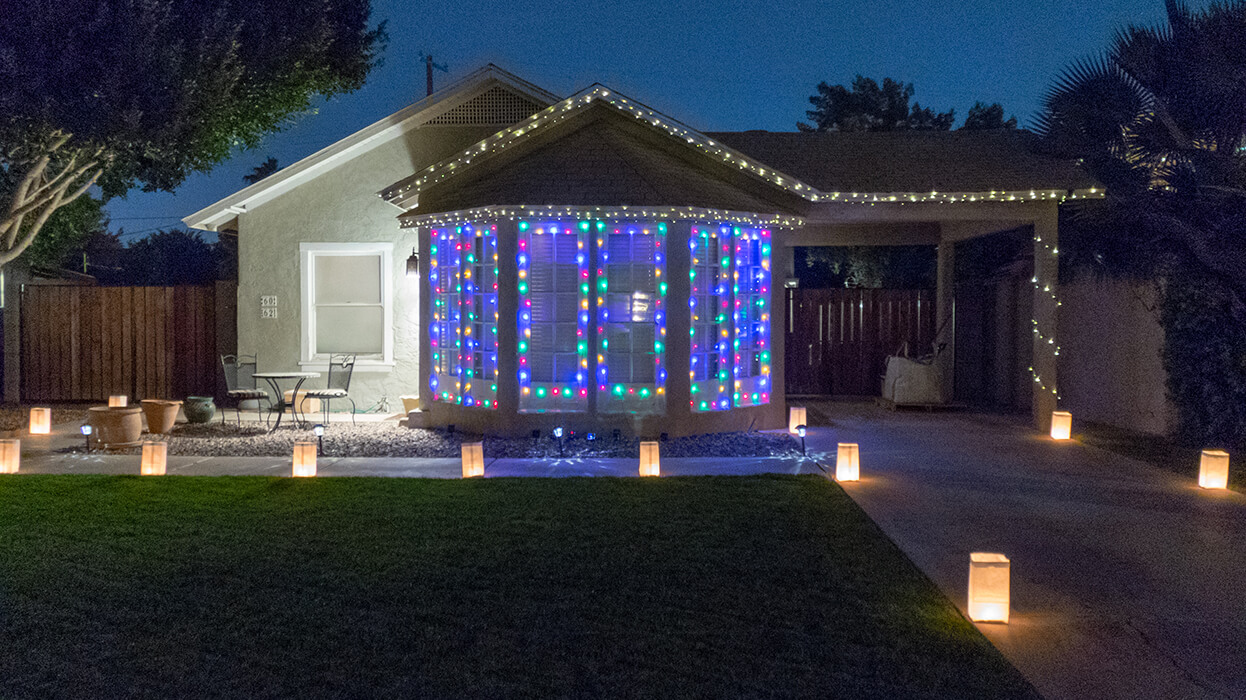 21 Nov

Luminaria 2018

Hi! My name is Chris Norton and I'm the luminaria committee chair which is just a fancy way of saying I'm the organizer who procures the materials and coordinates a small army of volunteers to make it all happen.

Each year our neighborhood builds and lights 11,000 luminaria; it's a staggering community/volunteer achievement. Our luminaria tradition isn't just about having pretty paper lanterns. The "luminaria build party" held on each block is an opportunity to spend quality time with your fellow neighbors in the spirit of the holidays.
When Is It?
Luminaria are lit for each of the 3 nights before Christmas. People from our neighborhood, and indeed the surrounding valley, stroll our sidewalks to enjoy the holiday lights. This is a great opportunity to meet neighbors from other streets! Each year you can find residents who might offer you a glass of wine from their porch or ask you to join them around a fire pit for a piece of cake. In the past I've greeted residents with "Hi neighbor!" and immediately found myself engaged in a friendly exchange.
Solving Long-Standing Problems
The performance of the tealights last year was a problem. This has been an on-going issue for the last couple of years with burn times getting progressively worse. Since last year, alternatives were explored including LED tealights. The findings were presented to the board in November and the conclusions were compelling and the board overwhelmingly voted to switch to LED tealights for 2018.
What's Different This Year
The LED tealights put out the same amount of light and flicker just like wax tealights. An added benefit is they only need to be turned on once rather than "lit" each of the 3 nights. The batteries should last 72-100 hours; more than enough to cover the event. They're reusable, don't pose a fire hazard and the batteries can be recycled.
What Everyone Must Know
Willo will invest in purchasing 11,000 LED tealights and that requires us to collect them afterwards. If you help your block by disposing the bags after the event, YOU MUST NOT keep or toss out the LED tealights. These MUST be returned to Chris Norton, Chair of the Luminaria Event for post-event storage and reuse next year.
Why And How To Get Involved
Willo consists of 15 streets, 44 blocks in all. While it's truly beautiful to see every street and 3rd & 5th avenues lined with luminaria, it can ONLY happen if we come together to make it happen. PLEASE do not assume someone else will do it for you. Every year there are several blocks on the verge of "going dark"; ones that will have NO LUMINARIA because they have no volunteer.
Each block needs a volunteer who's job it is to direct the effort. The sense of community we all appreciate requires actual participation.
So, what's needed from a volunteer? Truthfully, very little if you delegate! Like the saying goes "many hands make light work". Each block captain needs to pick up luminaria supplies from the organizer, Chris, coordinate a "build party" with their neighbors and "light" them on the first night. Again, much of this can be delegated to other, eager neighbors. The luminaria build party is a wonderful opportunity for the block to also share in a potluck meal social. Volunteers don't have to host building the luminaria. That can be done at anyone's house and is typically done outside.
You can volunteer for more than one block and you can volunteer to be someone's assistant. Volunteers will be emailed additional guidance and materials to make their task as easy as possible.
To Learn More
Our online luminaria sign-up has all the details and will always show real-time status for each block.  You may also contact me directly:  Chris Norton, 100 Block of Lewis Ave, 480-559-9775, VividViews@gmail.com
History of Luminaria – How it All Began
Several people have asked me that question in the past and until recently, I couldn't answer it. Even our current board members didn't know. I eventually tracked down and met with Diane Blanco on the 300 block of Lewis Ave who started it all 37 years ago. And yes! She still lives in the same home in Willo she's owned for almost 45 years. Diane graciously shared several stories during my interview with her.
Early on, she had become friends with Byron and Jo Ann Stalcup who lived at 301 W Lewis Ave. One day she told Byron how her friends to the north on Wagon Wheel Dr were doing luminarias for their street and Byron suggested the two of them should do it for their block. After brainstorming one summer afternoon in her garage, a plan was hatched. They went to the Lower Salt River bottom to get sand and they bought brown paper bags and candles from a food store. Jo casually spent the months leading up to December wrapping the candles in aluminum foil and tape because they would burn longer. Rather than using 3 votive candles per bag as we do today, they used one full-sized candle.
Diane, Byron and Jo lit the luminarias at 7 pm and at 10 pm, they blew out the candles. They quickly discovered this didn't work well as they would blow out a candle, take three steps and blow again. Long before they had extinguished their 100+ luminarias, they were all out of breath. Jo came up with an idea to use a turkey baster to blow out the candles and that worked well for them.
Their kids would also pitch in and one-year Bryon's son Matthew made clay pots. They tried using the pots with lighter fluid instead of candles. But the pots hadn't been fired in a kiln and after the fluid burned a little while, the pots cracked which left them scrambling to find candles.
Each year they built, set up and lit luminarias for each of four nights on their block of Lewis Ave between 3rd and 5th avenues. Over the years, people from neighboring blocks took interest and before long, everybody wanted to do it. Traditionally, luminarias are made from brown paper bags. While others started using white bags, they stuck with brown bags in keeping with a Southwest feel. Eventually the popularity of white paper bags persuaded them, and they switched.
Seven (7) years after starting luminaria on their block, Byron passed away. Jo and Diane carried on with the tradition, and Diane did the luminarias on her block for a total of 17 years. Today the residents of the 300 block of Lewis Ave largely consist of an older generation. Many of them have physical limitations that make it difficult, if not impossible, to build and light luminarias. Sadly, in recent years their block has been under a threat of "going dark" as it's been a challenge to find a volunteer to cover it. The good news is Diane is still here and she'd be happy to host a holiday party for people to build her block's luminaria.