Preservation… Phoenix Style!
By Tricia Amato (Lewis)
We all love our historic neighborhoods, and we like to think that there are financial, social, and environmental benefits to living here, but what real evidence do we have?
Well, now there is hard data that Phoenix's historic districts (HDs) and surrounding commercial areas bring many quantitative benefits to the city as a whole. In 2021 the City of Phoenix hired PlaceEconomics, a national research firm focused on the economic impacts of historic preservation, to study the impacts of our local preservation efforts.
The full report, called Preservation Phoenix Style!, is available to read on the Historic Preservation website (see web address below). I encourage you to read it — it's full of interesting data. For those who prefer the CliffsNotes version, here are some highlights.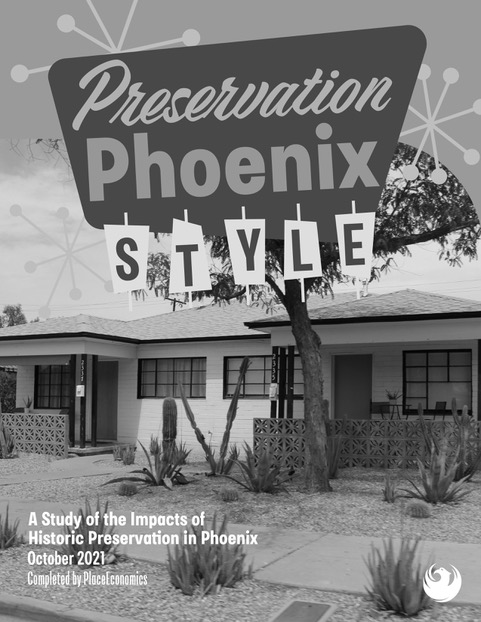 Phoenix has surpassed Philadelphia to become the 5th largest city in the US, and it is also the fastest-growing city in the country. As a result, there is incredible pressure here from developers, including in our most historic areas. Other large cities have tools to protect historic areas that we don't have (more about this in a future article), so Phoenix must be creative when it comes to historic preservation — and it has paid off.
Here is the good news:
HDs contribute to environmental sustainability. According to the study, while our HDs make up just over 1% of Phoenix's total landmass, they have seven times the number of trees per square mile as the rest of the city. These trees sequester five times the amount of CO2, and our air quality is six times better than the rest of the city. These stats align with the city's goal of a sustainable desert city.
HDs are dense. On average, historic districts have 1,000 more residents per square mile than the rest of the city — largely due to smaller lots and houses and the many multi-family developments. As a result, living in these areas is generally more affordable due to the large number of housing options and the close proximity of services, making owning a car less important.
HDs are racially diverse. Demographics show that the racial makeup of HDs matches the rest of Phoenix, but get this — since 2010, HDs gained fewer white residents and maintained more residents of color than the rest of the city.
HDs are walkable. Most historic districts have a "very walkable" walk score of 70-89, while the rest of Phoenix is considered "car-dependent." In fact, 91% of HD residents live within a 10-min walk to a park, and 57% can walk to a museum.
HD homes hold their value. Property values in historic districts are not only higher than the rest of the city (in 2021, the average $/sq ft in HDs was $253 vs. $159 in the rest of the city), but values grow more quickly. HDs are also more foreclosure resistant. During the Great Recession of 2008, HDs saw significantly fewer foreclosures than Phoenix as a whole.
Historic areas attract more business. Heritage commercial areas such as Grand Avenue and Melrose contribute more to the city than non-historic commercial areas. Local, creative, and technology start-ups look to historic areas and adaptive reuse projects as attractive places to set up shop, adding to the economic base and the cultural flavor of the city. In fact, 20% of entertainment, arts, and recreation jobs are in heritage commercial areas.
Now you know — all those beliefs you had about living in Willo are true. The report contains so much more interesting information and examples of historic preservation success stories than I have room for here, so check it out!
Tricia is a City of Phoenix Historic Preservation Commissioner. Visit phoenix.gov/pdd/historic-preservation for information regarding historic guidelines and approvals. Tricia can be reached at amatotricia@gmail.com.