"FAA Flight Path Neighborhood Advocacy" Recognized for 2018 Governor's Heritage Preservation Honor Award!
Five Central Phoenix Historic Districts have been named recipients of the 2018 Governor's Heritage Preservation Honor Award for their legal battle to reverse harmful impacts on historic neighborhoods of unannounced flight path changes made in 2014 at Phoenix Sky Harbor International Airport. The award was presented at the annual Arizona Historic Preservation Conference on June 7, 2018.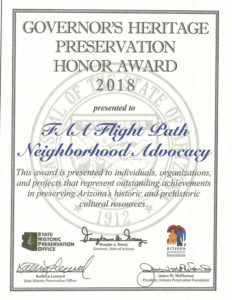 Sharing in the honor are the Story Preservation Association, Willo Neighborhood Association, Roosevelt Action Association, Encanto-Palmcroft Historic Preservation Association and Woodland Historic District, as well as former Arizona Attorney General Terry Goddard, whose law firm, Dentons, represented the group in its successful legal action against the Federal Aviation Administration (FAA).
The Historic Neighborhoods, who petitioned in opposition to the U.S. Court of Appeals separate from, but in support of, the City of Phoenix's lawsuit, asserted in their court filings that the flight path changes compromised the historic character of their neighborhoods, and that the FAA failed to fully consider the impacts on historic properties or do an appropriate assessment of historic resources affected by the new routes as required by the National Historic Preservation Act, the National Environmental Protection Act, and other federal laws.
On August 29, 2017, the Court ruled in favor of the Historic Neighborhoods and the City of Phoenix and against the FAA. The legal victory resulted in the flight paths in question being returned to their pre-2014 routes on March 29, 2018.
The tenacity, resolve and extraordinary effort undertaken by the Historic Neighborhoods in their three-and-a-half year effort, has resulted not only in restoring the historic sense of place in their neighborhoods, but has also been a contributing factor in the FAA changing its community involvement practices. The strong stand and actions taken by these neighborhoods has created a model for grassroots action and set legal precedent with regard to the FAA's responsibilities for notice and consultation regarding airspace changes – especially those affecting historic properties and other sensitive areas.
The Historic Neighborhoods are honored to receive this special recognition of their efforts.